The app easyHUE
With easyHUE, you can control Philips Hue lights via your Internet browser. The app runs in almost all modern browsers on smartphones, tablets and PCs - regardless of manufacturer and operating system.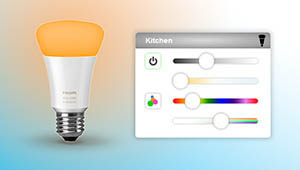 ---
Advantages of easyHUE
Free and open source (MIT License)
No registration
No installation
Supports LightDuo lights (for instance Hue Beyond)
Fits with the new app Philips Hue
Supports switchable power outlet OSRAM LIGHTIFY Plug

---
What easyHUE does
Adjust brightness and color of Philips Hue lights
Assign lights to rooms
Connect lights with a Hue bridge
---
What easyHUE needs
---
easyHUE - free and open
easyHUE is available under the MIT License. In simple words, it means: "You can do what you want with this software. Accept in return that there is no warranty, liability and/or support."
Please find the legally compliant version of the license in the app easyHUE and at Wikipedia.